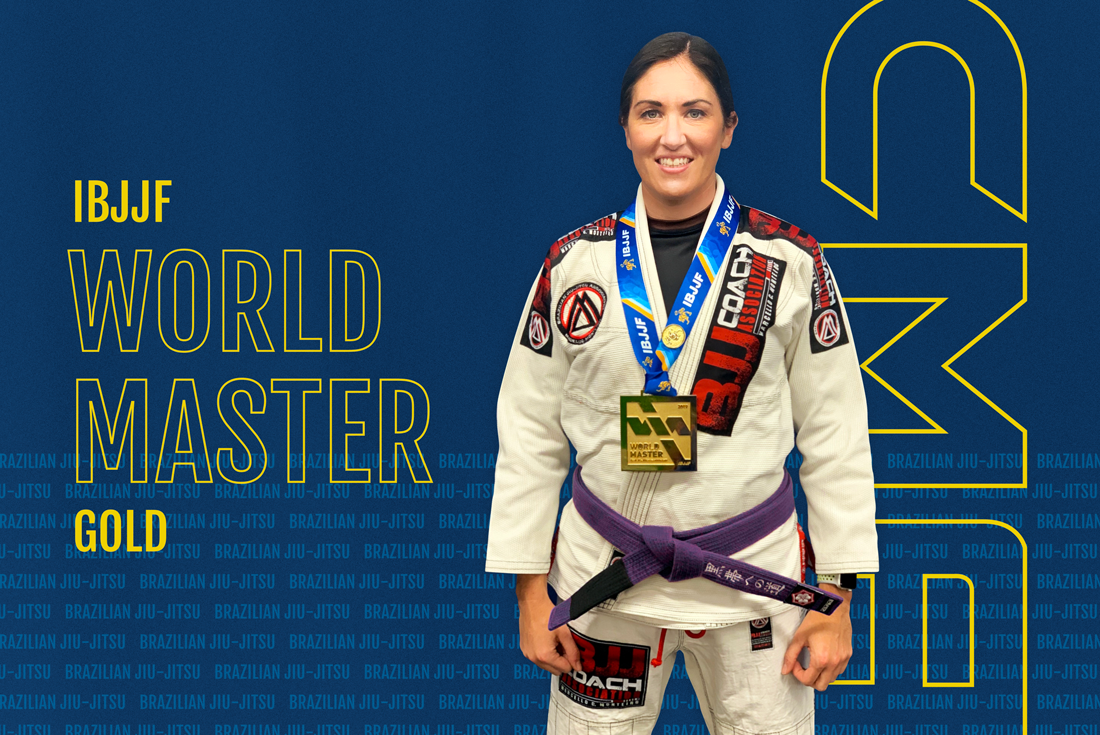 BRIANNE CORRAL WINS PURPLE BELT FEATHERWEIGHT DIVISION TO RECEIVE A 2019 IBJJF WORLD MASTER TITLE.
Everyone who trains jiu-jitsu dreams of winning an IBJJF World Championship. It is one of the most coveted tournaments to compete in where you face some of the best practitioners in the world. You need to devote a lot of time and dedication to be able to even stand on the podium, let alone win.
It's something that can be done, and one of our own, Brianne Corral, was able to win the 2019 World Master Championship in August. We wanted to share with you what her Brazilian Jiu-Jitsu journey has included up until her winning the World's, and what it took for her to accomplish something she thought wasn't possible.
WHAT DID YOUR BRAZILIAN JIU-JITSU JOURNEY LOOK LIKE FROM WHITE TO PURPLE BELT?
I started training Brazilian Jiu-jitsu in 2004 when I was 24 years old. I was a brown belt in Tae Kwon Do and was thinking about getting into another martial art. I met Braulio, who later became my husband, and he introduced me to jiu-jitsu. I didn't really know what it was at the time, but I soon fell in love with the sport.
When I was a white belt, there weren't many local tournaments around. Since there weren't many opportunities to compete, I only trained a couple days a week having fun learning the basics. Things didn't start getting serious for me until some of the guys on the team started showing interest in competing, and more competitions started to pop up, like the Hoosier Open by Caique, EGO by James Clingerman and the Extreme Challenge by Henry Matamoros.
I'm not sure what year I started competing, but I know I did four tournaments as a white belt. I started to increase my Brazilian Jiu-jitsu training to three days a week (which was all that was offered at the time), along with strength and conditioning, to prepare for competitions. I never had to worry about cutting weight since I was always the smallest one in the bracket. Plus, back then there weren't many women competing, so they put us all in the same division together, which was basically an absolute bracket. There was no age or weight division and I would be lucky to have four women in my division
As a white belt I took 3 gold and 1 silver. Then, in 2007, I got married. By that time, Braulio had been promoted to black belt, and he wanted to promote me to blue. I said I wanted to wait since I wanted to compete one more time as a white belt. I remember training for the next tournament, but I was gaining weight. We were super busy at the time promoting the Corral's Combat Classic full contact fights, and it was the biggest one to date at the Horseshoe casino. Turns out that weight gain wasn't from stress; it was because I was pregnant.
As you may guess, I didn't get to compete, and I didn't receive my blue belt. I was a 4 year white belt by the time I became pregnant. My first born, Braulio the 3rd, was born on September 16th, 2009. It took me about 3 years to get back on the mat and start training Brazilian Jiu-jitsu consistently. After 8 years as a white belt, I was promoted to blue belt on November 3rd 2012.
There were more tournaments coming around, so there were more opportunities to compete, and I felt like I was in a better spot to put in the time to train. I never got a gold medal as a blue belt; it was always second or third. I was training more consistently, but still only three days a week on the mats, along with my strength and conditioning 5 days a week. By then there were actual weight divisions for women, so this made it more competitive.
I competed around six times as a blue belt, and then I got promoted to purple belt on November 14, 2015. Shortly after, I became pregnant with my second son, Bronsen, which was born on July 7th, 2016. I was determined to get back on the mat as soon as possible after this pregnancy.
I was now training BJJ 4 days a week consistently, along with strength and conditioning 5 days a week. As a result of the increased training and time I was dedicating, I won gold at my first tournament as a purple belt at IBJJF Chicago in 2017. This was very motivating, and it drove me to train more and harder.
In 2018, I competed 5 times (Gold at the New York Open, Silver Chicago Spring Open, Bronze Nationals in Las Vegas, Gold at the Chicago Summer Open, and lost my first match at Master Worlds in Las Vegas). I was proud of my accomplishments, but it was devastating to end the season with a loss. "We may encounter many defeats but we must not be defeated" Maya Angelou.
I learned a lot in that year, but felt I had more to accomplish as a purple belt. In 2019, I competed 6 times. I trained just as hard and worked on the mistakes I made the prior year. I took silver at the IBJJF Pan Americans, Gold at the IBJJF Chicago Spring Open, Silver at the IBJJF American National, Gold at Grappling Games, and Gold at the IBJJF Chicago Summer Open. To close the year, I made a dream come true becoming a 2019 IBJJF World Master Champion in the Women's Masters 2 Featherweight Purple Belt division.
After winning, I was promoted to brown belt on the podium by my husband Braulio Corral and Professor Marcello C. Montiero on August 24th 2019. When I was a white belt, I never dreamed I would become a brown belt, let alone a world champion. This accomplishment has made my Brazilian Jiu-jitsu journey better than I even imagined possible.
In my early days of training, I told my husband that I would never be a black belt in Brazilian Jiu-jitsu. He told me yes you will, and now that I'm a brown belt, I can admit he was right that I will be a black belt someday. I still have a ways to go, and a lot more to accomplish as a brown belt, so I am in no hurry, especially since I have enjoyed every moment of my Brazilian Jiu-jitsu journey.
WHAT DID YOUR TRAINING REGIMEN LOOK LIKE LEADING UP TO THE TOURNAMENT?
My competition training starts 6 weeks out from a tournament. During this time, I eat very clean and train almost 7 days a week. Here is the usual training schedule I follow: Monday I go to morning spin then BJJ in the evening, Tuesday includes morning spin and in the evening kickboxing and strength and conditioning with a focus on legs. Wednesday is spin in the morning and BJJ in the evening. Thursday's training is morning spin along with kickboxing and strength and conditioning with a focus on arms and shoulders, On Fridays I spin in the morning and then I go to BJJ open mat/curriculum class, along with strength and conditioning with a focus on arms. Saturday is a rest day, or if I feel good enough, I will spin or do BJJ class in the evening. Sunday is dedicated to BJJ competition class.
WHAT TYPE OF SACRIFICES DID YOU HAVE TO MAKE TO BECOME AN IBJJF WORLD MASTER CHAMPION?
The biggest sacrifice has to be my diet and the time I put into training during competition season. I definitely stick to my meal plan along with my training schedule. This means not eating out, and not eating past 6:30.
I plan my day around my training schedule. My workouts come first before housework, and I always manage to get everything done. I find myself having more energy for housework when I'm training for competition. I usually get more sleep because I don't stay up late to watch tv, and this helps give me the energy to do it all over again the next day. Jocko Willink said it best, "Discipline equals freedom."
My main focus leading up to a tournament is doing the things necessary to win. The mental battle of balancing rest and activity to prevent overtraining, along with managing day-to-day things, is tough. Some days it can be a struggle, especially with the kids, but I always manage to make it work. I wake up doing Brazilian Jiu-jitsu in my mind, and I sleep dreaming of it.
HOW DO YOU STAY MOTIVATED TO KEEP UP WITH THE TRAINING SCHEDULE YOU FOLLOW, AND EVERYTHING ELSE YOU DO?
What your working for has to be worth more than the discomfort you feel! If I'm going to be an athlete, I'm going to train like one. I'm going to go out there knowing that I put in the work and I pushed myself as hard as I could during training. If I don't feel like I trained as hard as possible then I wouldn't be worthy to go out there on the mat and represent myself and my team. I train to win not just to compete.
I also want to show my children that if you put in the work that you will be successful. It's ok if you don't win every time but it's not okay if you don't put in the work and get upset when you lose. If you're going to put yourself out there, you better put your best self out there. If you only put 50% into your training then you're only going to reach half your potential. If you put in 100% then you're going to find success. I also want to be a role model not only for my kids but also for other female master competitors and young female athletes. These are the things that motivate me.
WHAT DOES IT MEAN TO YOU TO WIN AN IBJJF WORLD MASTER CHAMPIONSHIP?
For me, it meant that all the hard work was worth it. I finally felt worthy of being a purple belt and proved to myself that I could do it. I didn't give up and I worked harder than ever before to achieve my goal as a purple belt. It was the most overwhelming feeling I've ever felt in my life. It doesn't get any better to be able to say that I am an IBJJF World Master Champion. I truly have never been more proud of myself in my entire life. This is definitely the biggest goal I have set for myself, and to have achieved it feels amazing. "Set a goal so big it would blow your own mind" – Rhonda Byrne.
WHAT TYPE OF ADVICE DO YOU HAVE FOR OTHER COMPETITORS THAT WANT TO FIND SUCCESS IN COMPETING?
As long as you don't give up you will find success. Make sure you put in 100% and train like a champion. You don't want to walk away feeling like you were outworked because you didn't put the time in to train. You want to be able to perform at your full potential. I fully believe strength and conditioning is an important complement to your Brazilian Jiu-jitsu training. If you want to be a competitor, you need to be in the best shape possible, so that you make full use of your technique.
If you haven't competed, get the first one out of the way and have fun. Competing is not for everyone, but it definitely helps you stay motivated and get more out of your training. Either way, win or lose, you learn something valuable every time you compete.
If you haven't found luck in competing, every day is another chance to learn more. Make changes to get stronger, eat better, live healthier, and be the best version of you. Get out and set goals for yourself. Don't compete with anyone else but yourself. Aim to improve and be better than you were before. Take today as your chance to improve yourself and make the most of your Brazilian Jiu-jitsu journey.
It will hurt. It will take time. It will require dedication. It will require will power. You will need to make healthy decisions. It requires sacrifice. You will need to push your body to its max. There will be temptation. There will be setbacks. There will be pain. But I promise you, when you reach your goal, it will all be worth it! "Never give up on a dream just because of the time it will take to accomplish it. The time will pass anyway" -Earl Nightingale